This gorgeous book accompanied the 2014 Munich exhibition of Stettheimer's work at the Städtische Galerie im Lenbachhaus und Kunstbau. I gathered up everything I could find in the library system after recently having the universe reach down and tell me to investigate Stettheimer. Along with this book, I also perused the exhibition catalogs from the 1980 exhibition at the Institute of Contemporary Art in Boston and the 1973 exhibition at Columbia University, where many of her paintings ended up. These catalogs tried their best, but don't hold a candle to the vivid, full-color reproductions of her work alongside a dozen essays plus a section of her poems from Crystal Flowers. For anyone wanting to dive deep into this amazing artist, this 2014 book is the best guide to her work, showcasing her portraits of sisters and mother, party and picnic recaps, love letters to NYC and George Washington, and populating her pictures with pals like Marcel Duchamp and Carl Van Vechten and Leo Stein.
Note to self: next time I'm in NYC I need to see her sister's dollhouse at the museum of the city of New York (Carrie Stettheimer). Also, the Brooklyn Museum has Heat on the 5th floor.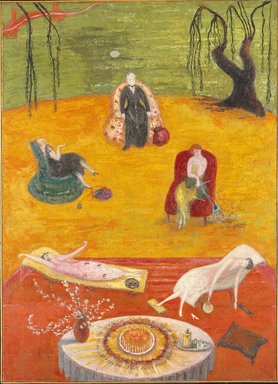 In SF, apparently the de Young has a copy of Still Life with Flowers (not currently on display).